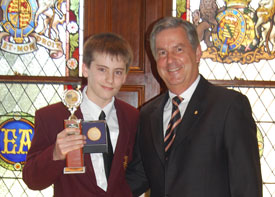 On Friday 6 November 2009 His Excellency Rear Admiral Kevin Scarce AC CSC RANR, Governor of South Australia (pictured at right with an Aberfoyle Park High School debater) as Patron of Debating SA and Mrs Scarce hosted a reception at Government House for the presentation of awards for the winning and runner up teams as well as the Debater of the Year award recipients of the 2009 Schools' Competition.The reception was attended by a total of 170 guests consisting of the 48 awardees, and their families.
After a welcoming address from His Excellency, a reply speech was given by Miss Lucy Hatcher, Debater, Pembroke School and Mr Tony Houey, Chairman of the Board of Debating SA. His Excellency as Patron of Debating SA then presented medallions to each of the debaters.
Following the reception's formalities, guests were invited by His Excellency to explore the grounds of Government House.
Debating SA extends its sincere thanks to His Excellency and Mrs Scarce for hosting the reception and for their continued support of Debating SA.