Good afternoon Your Excellency, Ladies and Gentlemen and my fellow debaters. My name is Nathalie Johnstone and it is my pleasure to be addressing you this afternoon as we celebrate yet another great year for Debating SA and the achievements of the teams and individuals present this afternoon.
Your Excellency, for your continued patronage of this competition, we are grateful. That you are there this afternoon, Sir, is a significant acknowledgement to all of us that civil and informed debate is essential to our democracy.
For many debaters, this competition has afforded us substantial opportunities to develop not only our public speaking skills, but our ability to reason, analyse and challenge our own bias. These fundamental skills, regardless of the path our lives take, will place us in good stead. But for some, this competition has offered something else: the chance to develop self-belief. Last year I was diagnosed with epilepsy. Debating has given me the opportunity to confront my fear of being gripped by this condition in front of an audience and whilst under pressure. But, my experience is not unique. This year I have met students who have overcome:
Speech impediments
dyslexia
significant visual impairments
anxiety
and having English as their second language
So thank you to Debating SA, the adjudicators, my fellow debaters, our audiences, parents and teachers.
If it were not for the safe and supportive culture created by all involved, the chance to be brave and allow all participants to truly challenge ourselves would not have been possible. We are grateful for the role this competition has had in developing our skills not only from a critical perspective, but also for helping us to foster self-belief and become confident young people with both the ability and the courage to speak up.
I now invite His Excellency forward to present medallions and to debaters and Miss Sonja Lowen, Training and Development officer, Debating SA to read the citations.
Year 8 Division Grand Final
Winner: St Peter's Girls' School Yellow 8
Hannah Keough, Abigail Lisle, Harriet Maerschel, Paris Robinson, Jessica Stratton-Smith & Ellen Zhang.
Coach: Ms S Shearwood, Mr G Callen & Ms L Brown.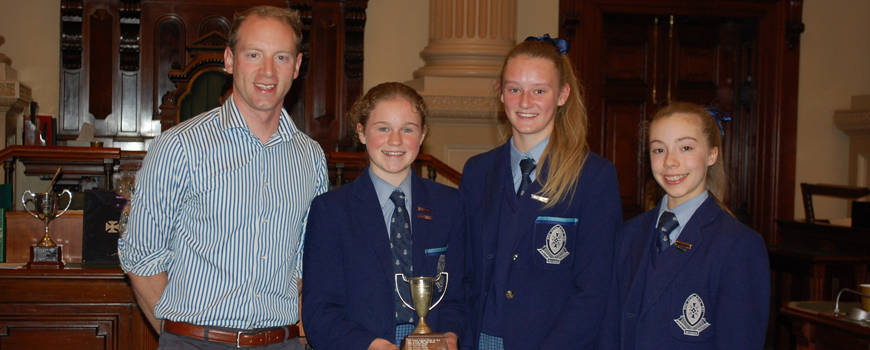 ---
Runner Up: St Peter's Girls' School Blue 8
Eleanor Anderson, Olivia Goldsmith, Siena Kulinski & Charlotte Stratton-Smith.
Coach: Ms N Jones & Ms H Bui.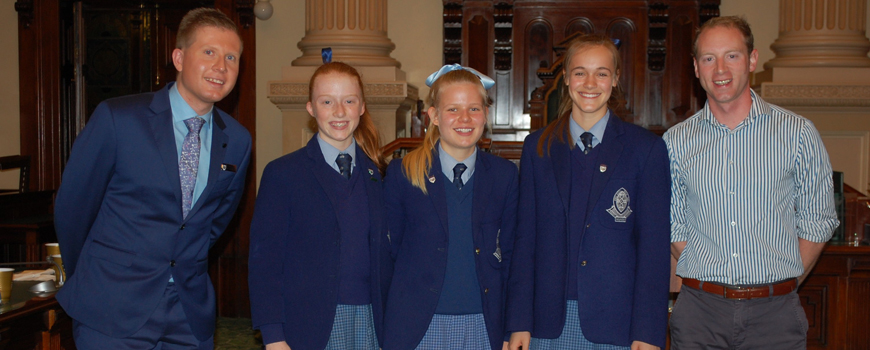 Year 9 Division Grand Final
Winner: St Peter's Girls' School Red 9
Hannah Brown, Sarah Carrodus, Shunem Josiah, Asha Short, Aditi Tamhankar & Isabella Villani.
Coach: Ms G Bateman, Mr S Richards & Ms C Hale.

Runner Up: Pulteney Grammar School Blue 9
Tom Clapp, Jake Reedman, Zach Nicholls, Lucy Johnson, Olivia Cameron & Benjamin McAdams.
Coach: Mrs E Clarke.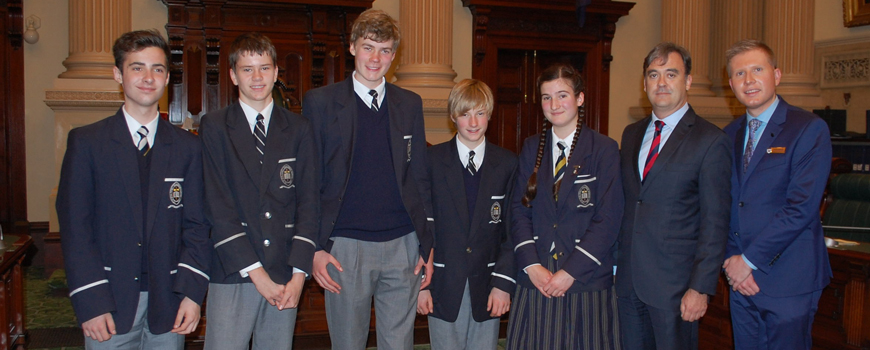 Year 10 Division Grand Final
Winner: Glenunga International High School Red 10
Thea Martin, Cerys Evans, Karolina Kocimska, Sanjana Menon & Imara Seneviratne.
Coach: Mr S Lindner.

Runner Up: Rostrevor College Red 10
Thomas Basso, George Connolly, Patrick Moller, Patrick Russo & Luke Valente.
Coach: Mr T Hodkinson & Mrs K Hodkinson.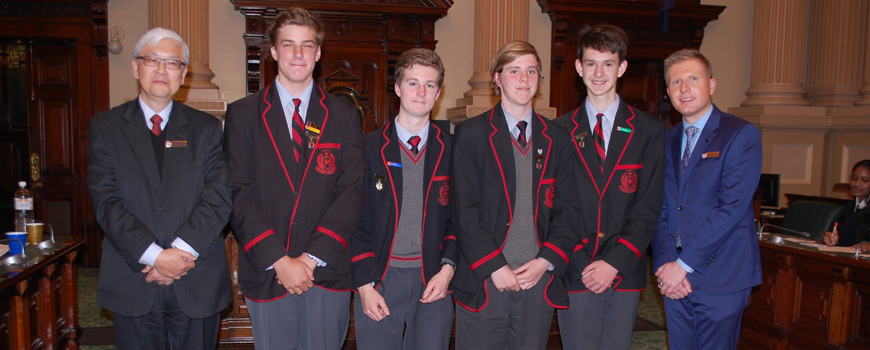 Senior Division Grand Final
Winner: Pulteney Grammar School White S
Ned Feary, Joshua Boscaini, Neha Athreya, Joshua Nicholls & Ellie Vivlios.
Coach: Miss E Guilfoyle.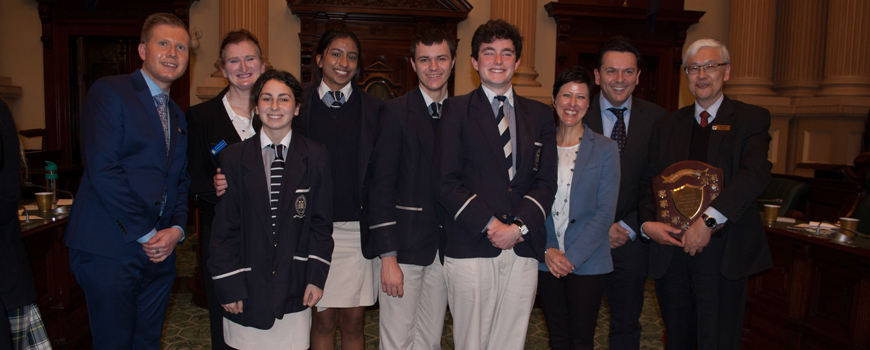 Runner Up: Adelaide High School Blue S
Ruchika Loomba, Sophie Ladd & Arabella Wauchope.
Coach: Mrs H Manning-Bennett.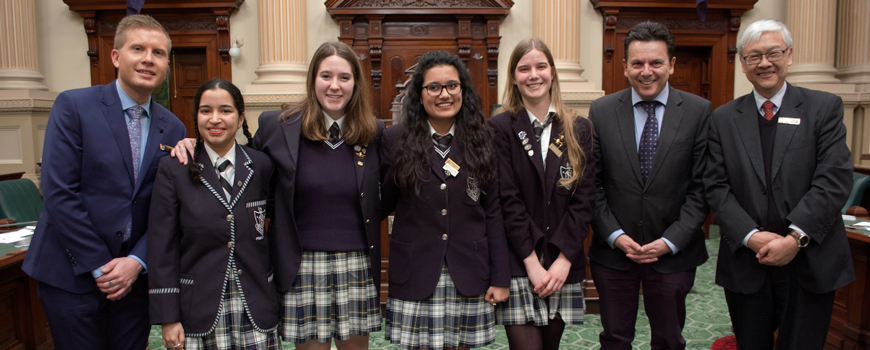 Open Division Grand Final
Winner: Aberfoyle Park High School Blue S
Alexandra Herden, Clarrie Lock, Ellyane Wall, Emma Barclay-Tininczky & Erin Whiter.
Coach: Mrs V Farrall.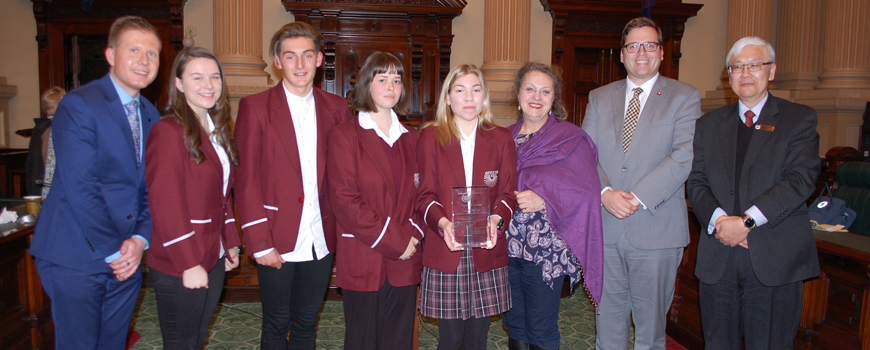 Runner Up: Pembroke School Blue S
Julia Cretan, Matilda Hatcher, Yingtong Li & Shien Wenn Sam.
Coach: Ms B Reid.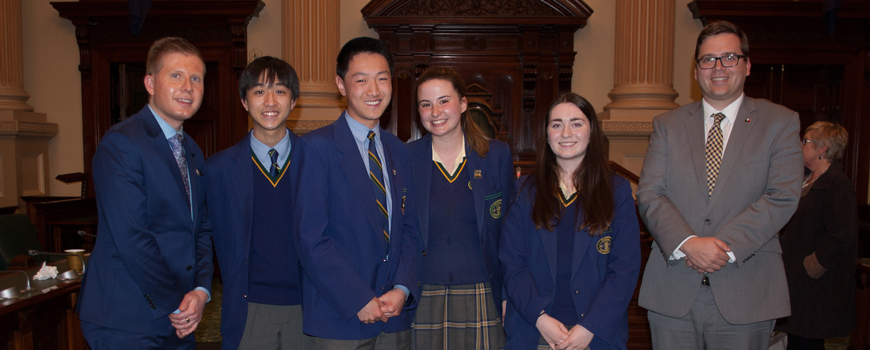 Debater of the Year Winners
Year 5: David Farr of Grange Primary School.
Year 6/7: Conrad Stott Smith of Pembroke School.
Year 8: Robyn Speck of Pembroke School.
Year 9: Annika Turon-Semmens of Pembroke School.
Year 10: Jaideep Ruciak of Pulteney Grammar School.
Senior: Nathalie Johnstone of Trinity College.
Open: Isaac Thiele-Swift of Unley High School.