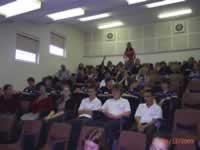 The idea behind the Global Issues Tournament was to hold an international style tournament over one day which included a significant workshop component to allow for topics that students may not easily be able to debate in normal circumstances.
The topic for this year was "That Bob Brown had the right to speak his mind in parliament" we picked the topic as it was a current event that had international implications and we knew that most students would not realise how significant the issue and its effects were at a global level.
The first day was held for the year 8 teams and began with an informal lecture on the topic which talked about the cost and effect of free speech. In general students seemed to only know what they had heard in the media and had no idea of the implications to Australia of Senator Browns views. During the lecture, students received information from both camps on the issue and were encouraged to make up their own minds.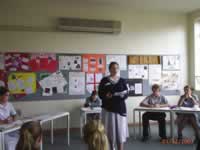 Students were then given their side of the topic at random and allowed some time before lunch to prepare their speeches with the aid of some volunteer adjudicators.
Each team debated the topic several times and were given some time between each debate to jazz up their speeches. Volunteer adjudicators spent a lot of time with students and gave specific comments to each speaker to help them to really get to the important issues. With this format students have the opportunity to learn so much more about effective speech writing as they perform the same core speech in several debate and have the chance to see the effects of any changes that they make on the debate as well as understanding that each team has a slightly different take on the topic even though everyone has the same base information making no two debates the same.
From an organisational and educational point of view this format of tournament worked well with students gaining a lot of knowledge and having fun whilst debating a very serious issue. This year we hope to run several of these tournaments earlier in the year perhaps even over 2 days to have an even greater effect.
For this format to work requires a minimum number is 12 teams with 3 adjudicators and 2 organisational volunteers. Debating SA can run this tournament as a school cluster group, internal single school, social or youth group event at a cost of $40 per team which includes certificate for participants and a trophy for the winning team.
The Year 9/10 tournament was held in the same format on the second day.
Participating Schools
Adelaide High School
Unley High School
Kings Baptist Grammar
Immanuel College
St Francis de Sales College
Marryatville High School
Winners
| | |
| --- | --- |
| Year 8 – Adelaide High School | Year 9/10 – Kings Baptist Grammar |
Thanks to volunteers, organisers & adjudicators
Alex Rafalowicz
Anna Smith
Kate Churcher
Leilani Miller
David Wilkins
James Tran
Lara Torr
William Brodie-Tyrell
Julie Miller